The default display fields for List Manager are usually a short summary and the system ID of each record. These may be configured differently at your site. You can change your List Manager display fields, either temporarily or permanently. These changes will affect your login only. You can return to the system default at any time.
To change the fields in List Manager:
1.With List Manager open, go to the View menu > Change fields.
2.Click the Remove All button

to remove current display fields.
3.Select the fields you want to display from the list of Available fields on the left. Double click a field, or highlight it and click the Add button

.
4.To change the order of your chosen fields, you can click the Reorder button

.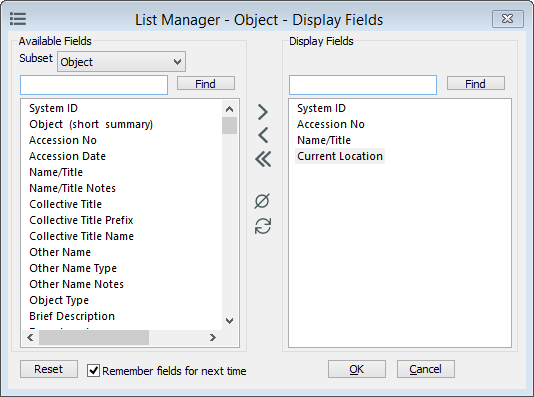 List Manager Display Fields window.
5.To save your selection for your login, tick Remember fields for next time. You can return to the system default by clicking the Reset button.
6.Click OK to close this window.