Vernon CMS gives you the ability to report on your collection. You can choose the records you want to report on, set up the information you need in the reports, and decide on the format.
To open the Reporting window click on the Report button

on the Tool bar.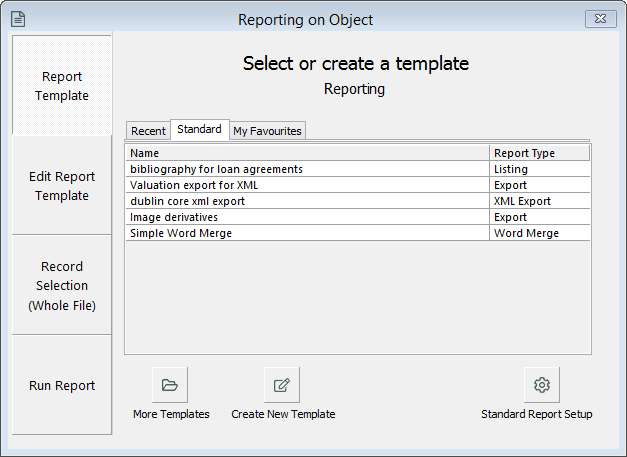 Reporting window, select report page
The buttons on the left hand side of the Reporting window step you through reporting. You can jump to any of these pages at any time.
Report Template
Use this page to select what report template you would like to use. The Recent tab shows the last 12 reports you have run. The Standard tab shows reports set by your organisation. The My Favourites tab shows report templates you have favourited in Portfolio. Once you have selected a report, you can run that report.
If you want to create a new report, instead of using a report template, click the Create New Template button and edit the formatting.
Edit Report Template
You can select the formatting, report type, fields, sorting and saved lists/search for your report. You can then save these choices as a report template for future use, or continue to Run report to do a one off report.
Record Selection
The Record Selection button will display how many records the report will run on. If no records are open in the background, or are selected, the report will run on all records in a datafile.
You can use the List Manager or Advanced Search on this page to select records.
Run Report
Use this page to run your report. Select if you want to print this report, save to file, or view it on the screen. You can also test run the report with a subset of records.