Coastal Cormorant (12.2) is now included in the 12.4 Dusky Dolphin release. Highlights include:
Reporting has been re-designed to easily run reports from saved report templates. The Reporting Tool is now split into four sections:
•Select an existing report template
•Create or edit a report template
•Record selection
•Run the report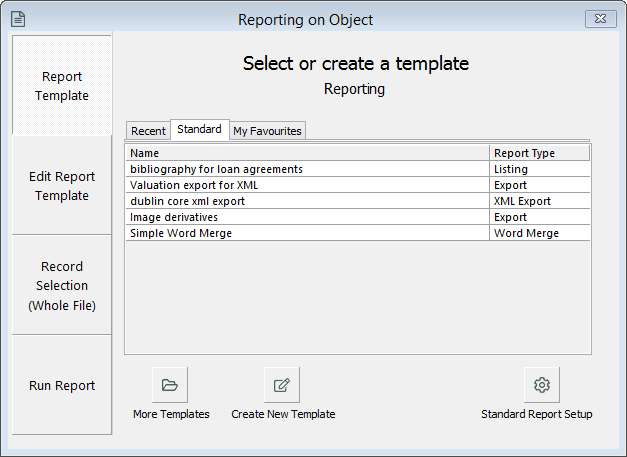 You can select from recent reports templates, standard report templates (reports set up by your organisation), and favourite report templates.
The Object Administration & Risk window has two new tables.
•The Risk to Object table records anything that is a risk to the object.
For example, recording if an object is especially vulnerable to water damage.
•The Hazard in Object table records any hazards that are present because of the object.
For example, recording if an object contains explosive or toxic material that could create a hazard to other objects/people.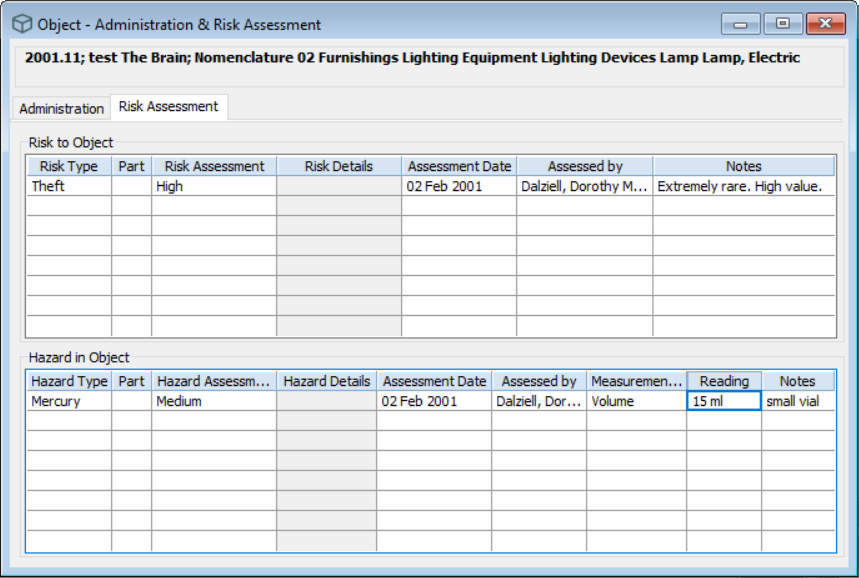 Both of these tables use the improved Risk/Hazard Type field. The related authority file can record information like policies and procedures, approved and prohibited locations and more.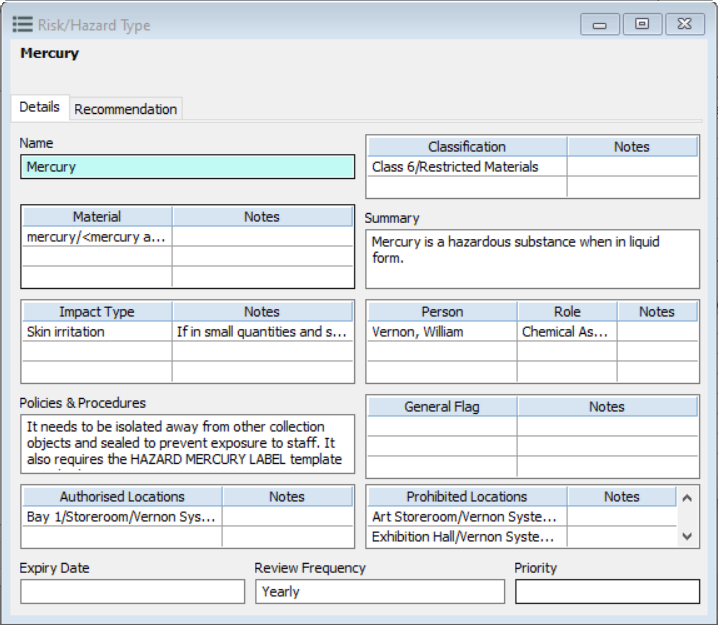 The Risk Management Activity is available to all sites that have purchased the Activities Module. It provides the ability to track and manage a range of risk and hazard events, from one off events to ongoing management. As with all Activities, you can link to multiple objects and activities to get a full picture of the risk or hazard. For example, if an object becomes damaged due to a hazard event, you can track it against the Risk Management activity, and then link to any Condition Report and Treatment activities that result.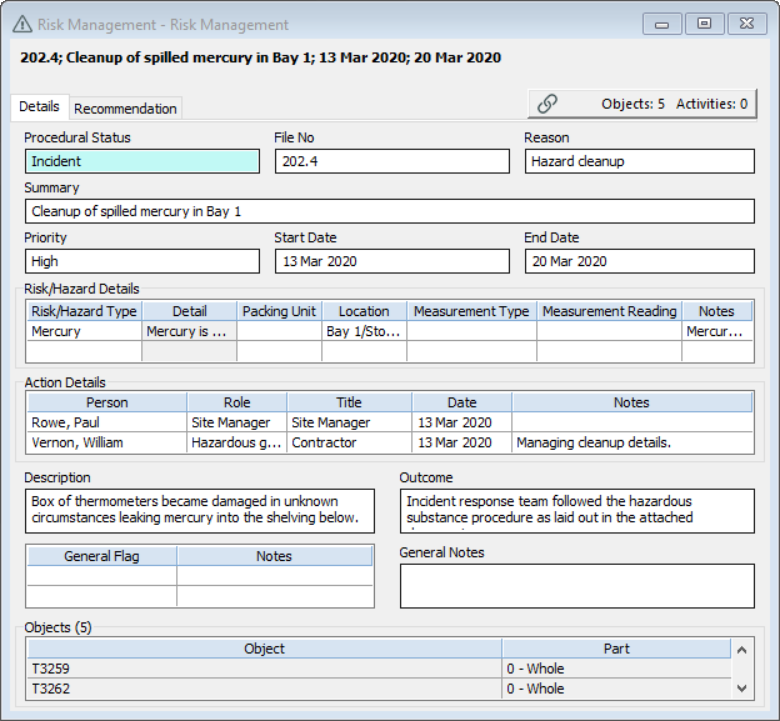 •Quick Reports runs on browse lists
If you have a browse list open when you access quick reports, you'll be asked if you want to use the whole browse list, or just the current record.
•Quick Reports are no longer linked to Procedural Status
All reports linked to a Procedural Status have been added as standard reports during the upgrade process. This is a one off conversion.
Now, all standard reports can be selected at any time to run as a Quick report, and Procedural reports will only run when a record's status changes.
•Category Field in Packing Unit is now multi-valued
Previous versions could select either Storage, Transport, or Both as the Category for Packing Units. Now other authority terms can be created and multiple categories can be associated with a Packing Unit. Packing Units that were marked as Storage or Transport will still have that category applied. However, Packing Units marked as Both, will have no category. You can choose to leave this as blank, with this indicating that the Packing Unit isn't limited to any specific type of use, or you could use Authority Term Report/Replace to bulk update these Packing Units to have one or more specific terms in the Category field.
•Updated documentation
The Vernon CMS user manual is now hosted online. This means you will need an internet connection to view the help. If you require offline help, contact us at support@vernonsystems.com and we will send you a local copy.
•Button shows count of linked Objects and Activities for all Activities
These new fields are not searchable (except with a select statement) by default:
​
| | |
| --- | --- |
| Index Name | Index Field |
| Hazard Assessment Index | DC_INDEX_HAZARD_ASSESSMENT_DATE |
| Hazard Type Index | HAZARD_FACTOR_INDEX |
You can add these to your search index with Optional Indexes.
•Jump to our help videos quickly in Vernon CMS by going to the Help menu > Videos.
•XML import into the Location Lux fields
•Text Find and Replace, All text index, and bulk update now include the Photo/AV External Filename, Notes, and Document Notes fields.
•Paste Record from Template for Archive and Library fields.
•Allow hierarchical level defaulting to be turned off
•One line summary of object can be customised for External Tracking System
•Credit Line and Signature Marks tables have been made larger.
•Various performance improvements
•Bulk task update window has been resized to fit fields better.