The Object > Archive Series, and Object > Archive File/Item window are alternatives to the Identification window when you are cataloguing archival material.
Archive Series is for recording the overall archive series, or the grouping or archival materials.
Archive File/Item is for recording the files and items that sit below the archive series.
To link archive item, series, and files together:
1.Go to the Object > Group/Member and Related Objects window, or either of the Archive windows. Open the highest record in your hierarchy and enter the Level of Current Object Record, save the record.
(If the terms you need don't already exist, you can create them: Creating Authority Terms.)
2.Open the record of an item that sits beneath the top record, and add the Level of Current Object Record. Then enter the name, accession number, or ID number of the parent record into the Next Higher Record in Group field. Save the record
3.Repeat step 2 for each record you want to add below the parent record.
When you link records together in the Group/Member and Related Objects window, the other object records get updated too.
Changing the location of the group object record does not automatically update the locations of any member object records.
The records in a group can be moved together by using the Bulk Move tool.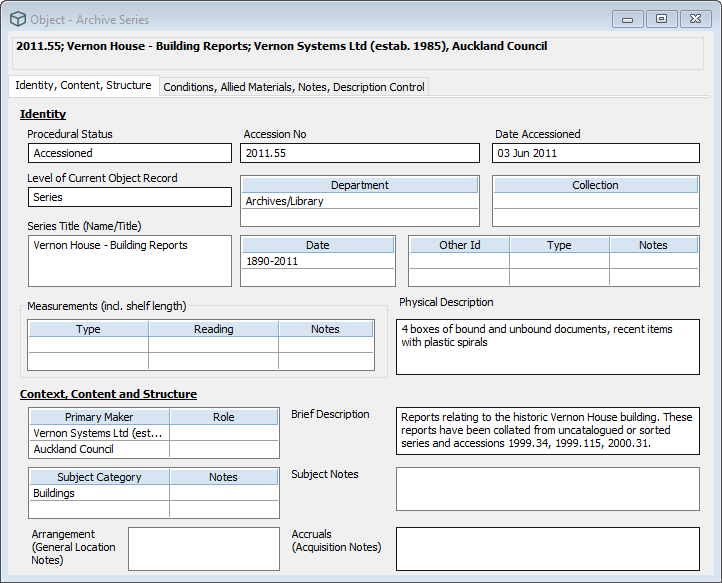 The Archive Series window showing a record for a series of archival materials about Vernon House.
When you open the Group or highest record, you will see all the member records listed in the Member Object table.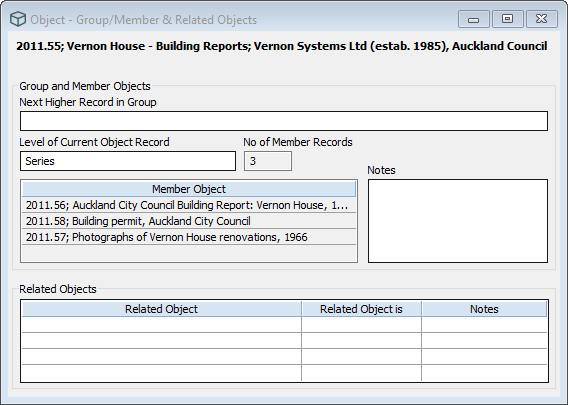 The Group/Member & Related Objects window showing the Items that are part of this Archival Series.